Dental
Moreland Surgery Center offers a variety of dental and oral maxillofacial surgical services to help you maintain oral and maxillofacial health. Our facility specializes in providing an alternative level of higher anesthesia especially for children that may have difficulty with dental procedures in an office based setting. We also provide services for some of the more common adult problems to include:
Wisdom Teeth Extraction
Wisdom teeth are the last teeth to erupt within the mouth. When they align properly, and gum tissue is healthy, wisdom teeth do not have to be removed. Unfortunately, this does not generally happen. The extraction of wisdom teeth is necessary when they are prevented from properly erupting within the mouth. They may grow sideways, partially emerge from the gum, and even remain trapped beneath the gum and bone. Impacted teeth can take many positions in the bone as they attempt to find a pathway that will allow them to erupt successfully.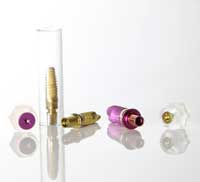 Dental Implants
Implants are designed to provide a foundation for replacement teeth which look, feel, and function like natural teeth. The person who has lost teeth regains the ability to eat virtually anything and can smile with confidence, knowing that teeth appear natural and that facial contours will be preserved.
The implants themselves are tiny titanium posts which are inserted into the jawbone where teeth are missing. These metal anchors act as tooth root substitutes. They are surgically placed into the jawbone. The bone bonds with the titanium, creating a strong foundation for artificial teeth. Small posts are then attached to the implant which protrude through the gums. These posts provide stable anchors for artificial replacement teeth. Implants also help preserve facial structure, preventing the bone deterioration that occurs when teeth are missing
To find out more about wisdom tooth removal or dental implants and how these procedures are performed click here.
Click here for list of Doctors