Ophthalmology Equipment
The Lumenis Selecta II SLT laser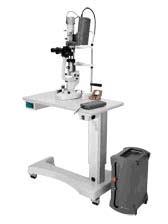 The Selecta II is a clip-on product; conveniently fitting onto most commercially-available converging-optics style slit lamps. The unique design of the unit's laser-head makes it especially easy to attach and disconnect the system – allowing you to use your slit lamp as either a diagnostic tool, advanced laser delivery device or both.
Selective Laser Trabeculoplasty (SLT) is a type of laser surgery that uses a combination of frequencies allowing the laser to work at very low levels. It treats specific cells "selectively" and leaves untreated portions of the trabecular meshwork (the mesh-like drainage canals surrounding the iris) intact. For this reason, it is believed that SLT, unlike other types of laser surgery, may be safely repeated many times. Selective Laser Trabeculoplasty is clinically proven to treat glaucoma by safely and effectively reducing intraocular pressure in a single procedure.
SLT can be an effective adjunct to medication therapy or used as a primary treatment to reduce or eliminate the need for topical glaucoma medications, along with their common systemic side effects.
INFINITI® Vision System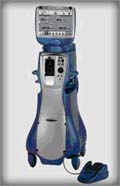 The Infiniti Vision System by Alcon provides enhanced chamber stability and control and utilizes the OZil® Torsional Handpiece for superior micro-incision procedures.The staff-friendly console design allows greater access to increase surgical productivity. The system increases setup efficiency through front access connections for consumables and accessories and improves readout visibility through a large touch screen that tilts and rotates 180 degrees on two axes. The system offers increaseed staff accessibility through a height-adjustable tray design that is usable from either side. The simple screen design allows customization of your procedures and steps to tailor to your individual technique.
From lens removal to lens implantation, the INTREPID® Micro-coaxial System delivers a complete micro-incisional solution, allowing you to perform surgery safely and efficiently through a single incision without altering your normal technique.
Aura® PT™ Ophthalmic YAG Photodisruptor Laser System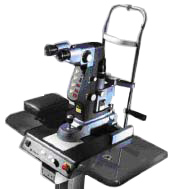 The preferred product for anterior-segment procedures such as laser iridotomy and capsulotomy, the Aura PT includes advanced specifications which make treatment fast and accurate for superior patient care. Designed to be safe and easy to use, the Aura PT is the result of years of engineering and manufacturing expertise. The Aura's advanced features – a 16 degree cone angle, precision optics, adjustable posterior & anterior offset, high repetition rate and variable burst modes – allow you to perform capsulotomies on all types of intraocular lenses (IOL) with significantly lower risk of lens pitting. In addition, the superior laser cavity design enables more efficient tissue cutting at lower power and with fewer shots.