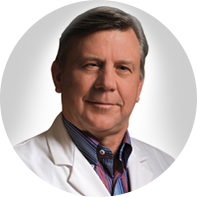 Robert V. Purtock, MD PhD is the Medical Director of Professional Pain Management. In addition to being a Diplomat of the American Board of Pain Medicine and the American Academy of Pain Management, he is Board Certified in Anesthesiology and Pain Medicine by the American Board of Anesthesiology.
Dr. Purtock was born and raised in the Midwest. After completing his undergraduate work at Marquette University, where he received his B.S. in biology. He continued graduate studies in human physiology at the Medical College of Wisconsin earning a Masters Degree and Doctorate Degree in the study of cardiovascular research.
He earned his Medical Degree (MD) from the Medical College of Wisconsin and went on to complete a residency in Anesthesiology at the Medical College affiliated hospitals.
He has published numerous research articles in both basic science and pain medicine.
Dr. Purtock has been practicing pain management for 23 years and has been on the forefront of interventional pain treatment at both Waukesha Memorial Hospital and Oconomowoc Memorial Hospital.