Urology Equipment
Holmium Laser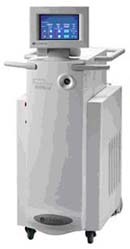 The VersaPulse holmium laser combines excellent cutting, ablation and coagulation properties for precise, virtually bloodless procedures. It is also extremely effective in fragmenting urinary and gall bladder stones of all compositions, making it an ideal multipurpose surgical tool. Because its laser light is transmitted through flexible fibers, it is especially suited for minimally invasive endoscopic and laparoscopic procedures.
Lithotron Lithotripter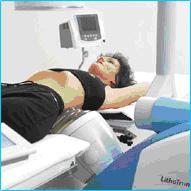 The HealthTronics LithoTron Lithotripter, one of the most effective lithotripsy machines on the market. The Lithotron Lithotriper utilizes spark gap technology to generate shock waves inside a water balloon which is placed up against the outside of a patient's body. The created shock wave is carefully focused into the patient's body and can thereby fragment urinary calculi within either the kidney or ureter. The LithoTron is composed of (1) a shock wave generator unit; (2) a control cabinet; (3) a C-arm fluoroscopy device; and (4) a motorized patient treatment table. It has one of the best success rates (86.1%) and lowest retreatment rates (4.1%) available, making the LithoTron very popular with urologists and patients alike.